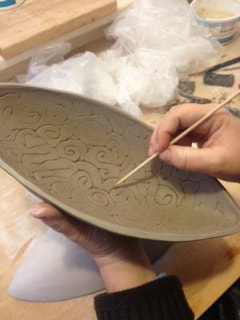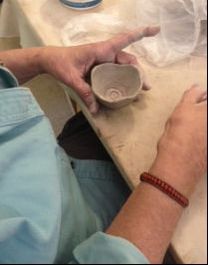 The other day during the class I teach in my studio in Shutesbury we had a deeply moving conversation- and I was left feeling humbled and honored as I churned with how the things we spoke about met my heart. Every day is different, and every class brings new insights on so many levels- it is like sharing food with good friends, sometimes there is levity, sometimes silent working that indicates sensory focus, and sometimes deep sharing.

There is something so lovely about what happens when we all sit around a table and make stuff with clay.

Yes, there is technique that I introduce and help with, and we have a great time developing skills, but it seems that the more important things have to do getting in touch with a deeper part of the self and sharing the conversations.

By letting yourself follow your impulse in creative decision making, working with your eyes and hands without trying to understand, analyze or quantify it, just noticing what is compelling, trusting your immediate responses and caring for the details, there is a way that you develop a deep acceptance and love for the parts of yourself that long to be seen. And things bubble up that seem unrelated, but in the comfort of our class community, they become ready to speak.

This is a compassionate witnessing of the self- so healingand simple. And the funny thing is that it does not require making work that is intentionally profound or meaningful. In fact it is specifically not that- it is just being with what comes. We end up with a deep sense of openness and compassion for ourselves and each other.

This has always been my solo art making practice and I am thrilled to make space for it in my studio for others.

If you would like to get a taste of working in my studio join me for a two session workshop on holiday ornaments. I have a few simple techniques to share and I am very curious to see what people will come up with from there.

I am currently working on scheduling the next 9 week clay class starting in January. It is open to all levels and any type of clay work you would want to pursue from wheel work to hand building to sculpture.

If you know anyone who would be interested in getting these emails- please forward and encourage folks to sign up for my mailing list.