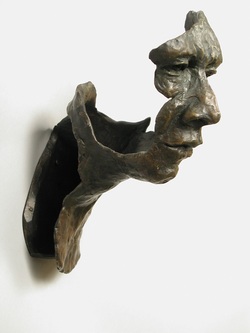 Why can't I make real art any more?
Is this question familiar? It goes like this: You are frustrated because it has been forever since you have made any real art and you doubt that you still have it in you. You have always thought of yourself as an artist, but sometimes you wonder whether you can really claim that anymore. I have so been there! If you have been like me, there are things that you have done to try to be creative, and they have satisfied a certain part of you, but they go now where and end up feeling like dabbling. The feeling of really making art is like a distant memory. Art school is long since over and life kicked in- responsibilities took over and here you are 20 years later and you don't really know who you are anymore. It's like that old Talking Head's song "this is not my beautiful life, how did I get here...". You do things to get yourself grounded and centered like yoga, walks in the woods, even taking a day to clean and organize helps sometimes, but there is something missing.


You know that if you could get into the art zone- if you had a sense of the creative flow- you would feel more like yourself again.
First I want to acknowledge that this is not actually small. It is a big issue. You and so many others like you have been able to keep on living and taking care of the stuff of life, but underneath it all- there is this
hollowness that has to do with not being connected to your own deep creativity. It is really painful to have something in you that needs to come out and to not be able to do it. In a real but sometimes very subtle way you are not being true to yourself. You feel trapped by all your responsibilities. You resent the time that others spend on their own passions. Your patience is thin. And life feels too hard and sometimes really not fair.

Second recognize that the term "artist block" was coined because there really is a massive challenge in getting back into your creative process after being out of it for a while. Heck even when we have been in it- we can get blocked. Artists and writers and creatives of all sorts have dealt with this for as long as we have had the terms artist and writer. There are a lot of very real practical issues that get in the way of taking the time and spending the money to do this essential but crazy seeming thing. But even without those- there is a complex and layered set of internal issues that need to be untangled. And it is hard to believe in the importance of this work in the face of a culture that actively disdains it- or at a minimum relegates it to the "isn't that cool" category.

So what do you do?

You don't need classes or a teacher telling you what to do or how to do it. You are well past that. You know that if you were accountable to something- like you used to be to a class or a mentor- or better if you had a show that you had to work towards, you might get a fire under your behind. But frankly you are not convinced you will be able to pull it together like you used to. It just sounds like more anxiety and pressure. It's a catch 22- put the pressure on- maybe you will finally get into the studio in a real way, but you will get an ulcer and neglect the kids. Try to just give yourself freedom to do what you want- explore and discover- the time and the space just get gobbled up by other things. Even folding the laundry is better than going into that studio and facing the blank canvas.

This is the thing- The kind of work that we are talking about- the creative work that has real meaning, the kind of work that you back up from and say- wow- did I really make that? The kind of work that is so compelling because it is so real and full of the stuff that has no words- that work is seriously vulnerable to do. You have to be able to not know what you are doing for a long time- what I call mucking around in the darkness. You have to have permission to flail about- to be confused- to follow whims without knowing if they will take you anywhere. It is hard to show anyone or talk about it. And it is hard to justify that kind of thing when the kids need braces, or college is looming, or the house payment is late, or the partner really does need some of your time.


6 hints to help you start making art again
Don't expect that you are going to be able to carve out big chunks of time on a regular basis all of a sudden. Go for little steps- let yourself play with doodles in 10 minute chunks- little gifts of pleasure. It is the play that will begin to open things up for you- and when you are ready to make the big chunks of time, you will find them.
Honor the various things you have been trying- they look like flailing and wasting time, but they are a significant part of getting that part of you engaged again.

If you are uncomfortable, starting to act out badly or notice built up resentments, and have an urge or an itch to make work, but it feels impossible, it is because you are ready for more- it is a good sign!

The real stuff does not come by forcing it- if you are trying too hard and getting angry at yourself for not coming up with anything good- you are effectively blocking the potential.
Pleasure is the key- let yourself play with the materials that entice you- and follow the impulse- trust that you will know what do to with it- it is a process of letting go that will allow the flow.

It is all already there. Your job is to try things and recognize what pleases you. If you are true to what is compelling for you- you are onto something truly interesting. So if you feel yourself giggle with the delight of what is happening in your hands, trust it and enjoy.

Get together with a friend who also makes art- start just with tea and commiserating. It will help you not feel so alone and crazy. Later, if it feels right, invite that person to see your work. Be cautious in this! Show work that is long since finished at first. What other people think of your new beginnings is not nearly as important as how you see them- and you could set yourself up for being inadvertently misguided by seemingly innocuous comments.
I would love to hear any comments about this post! Please post a comment below or e-mail me directly
If you know anyone who this makes you think of- please send it along- and share it on face book.
Yes, I can help
I offer coaching for artists as well as studio visits- in person if you live in Western MA, or send me images and lets talk. If you are curious but not sure if it is right for you, I offer a free one hour consultation. Click
here
for more information.
---
Are you an artist who isn't making art?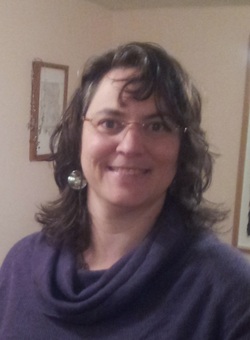 Can I interview you?
I am doing research to understand more about what people go through when they are struggling to make art work. I have plenty of my own experience, believe me I have struggled with believing in myself as an artist, in the value of the work, and in just getting going again! And have talked to friends and colleagues as well as students, but I want to know more. I am on a quest to understand how I can best serve this issue and people who struggle with it. After years of being an academic teaching art at the college level, and even more years as a solo artist, I am building Taproot: Arts and Insight. I want to see a world where artists are really making their work because I know that the insights that we find in this process, which seem so personal and specific to our own reality, are essential to the well-being of the whole planet. It sounds pie in the sky, but I believe that our creative insights are essential and I am mad that our culture does not support this challenging work.
So I am offering an exchange- ½ hour of interview for ½ hour of coaching. I have to say I have had these conversations with a few people and they are really fun! No pressure, but if it sounds like something you would be willing to help me with, then please click here.