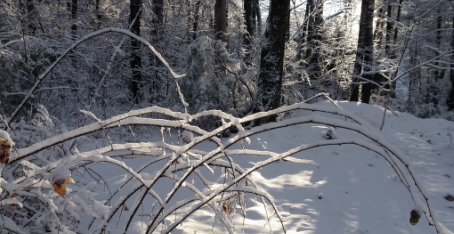 Ahh the holiday is over and my joints are creaky and achy again! This is not too surprising- I have not been able to avoid the candy dish and there is desert after every dinner. And wow the wonderful pancakes, bagels, homemade rolls, waffles, and cookies not to mention the extra coffee inserted in an effort to peel myself out of the over-eating stupor. Yup sugar, flour and caffeine are definitely taking a toll on my body again. The good news is that after trying to cut back on them for the months before the holiday and finding that indeed my joints were feeling better, I now have even stronger proof that those are the culprits. Ok and I admit that the lack of long walks might be a contributing factor as well.

So what to do? I could start harassing myself about it- and wake up my inner rebel who appears any time I give myself restrictions or rules. Does this sound familiar: My inner military officer commands, "no more sweet luscious delights- must get back in shape! Serious backsliding! Look at that scale- look at yourself- you are never going to fit any of your cloths again if you keep doing this." And then my inner rebel says, "Get lost you hard-nosed bully – you can't talk to me this way! I will eat what I want, I deserve the treats! I work hard- I am a mom, and I have a lot of responsibility- I need to have a little something just for me- a little pleasure in life!"

I don't know about you, but as soon as I begin a diet concept, and I have tried a few, I immediately have to eat more and worse. Some part of me cannot stand the feelings of restriction and control.



What to do? I really do want to take better care of myself, I think most of us do, and I do not want to engage in this internal battle, especially as I know that I will lose. In preparation for the course that I will be teaching starting in mid January, Weight Loss with Love, I have been developing some exercises and visualizations to access another voice, one that will effectively calm the battle and support the healthy living that I need in the context of loving compassion.

So today I look again at that little exchange above and find a few key words- what does the rebel call for? A treat and a little pleasure to offset the hard work of attending to all the responsibilities.

The key is to be light and playful about it- to slide past the rebel and engage the inventor and the explorer instead. What if? Is the operative questions- the game of asking "what if I did …..?"

What if today I begin the day with that treat- that little piece of pleasure. I will nurture and nourish myself at the beginning of the day, and maybe I can tap into it all day long. How? Connect to the pleasure of my senses. 5 minutes of sensual awareness. I begin with the sounds. Close my eyes and breathe and listen. Then I move into my body- feeling the couch under me, my toes resting against each other, breath, my neck- where ever I am drawn- I allow myself to feel the sensation of having a body and breath into it. I may even breathe a lovely sweet color or sparkle into it- a little tender image of love and healing energy. Having felt the luxury of having a body- I slowly open my eyes and allow them to find some piece of beauty in the space and rest there. Soak up the sweetness of living in this place. As the light of day begins to emerge in the quiet of the morning, the Christmas lights reflected in the window overlaying the bare winter branches outside- I take a minute to play with the shapes and colors.

Later in the day- when I feel the tug of the candy bowl, I will take a minute- half a minute- to breathe and enjoy the sensual pleasure of being in my body- with the memory of the sweet time in the quiet of the morning imprinted in my core, I will turn away from the candy bowl feeling nourished.